Top Sandwiches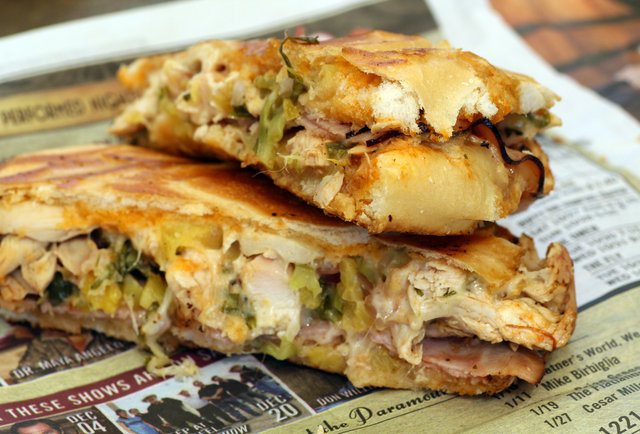 We all have or favorites and after working in a deli for many years I have made some awesome sandwiches, but only a few really stick in my mind as being truly unique and delicious. Here are my top 10 favorite deli sandwich combinations.
Number 10: chipotle chicken and avocado: thick country wheat. On one slice spread a small amount of chipotle dressing followed by sliced avocado, smoked chicken breast.
Number 9: the mad Italian: take your sub roll and slice it down the middle. Spread a moderate amount of puréed red peppers on one side. Then layer THIN SLICED boars head ham, Columbus Genoa salami, picante provolone cheese, and a few slices of prosciutto di Parma on the other slice of bread. Top with lettuce tomato onion oil vinegar and oregano.
Number 8: artisan baguette: slice baguette in half and place a few thick slices of brie on one slice. Next layer the brie with THIN sliced green apples and cranberries
Number 7: the thanksgiving dinner sandwich: first we need to make the special dressing: mix together some cranberry orange relish, mayo and a teaspoon of sugar. Now spread that liberally on both sides of bread. Next place your carved turkey breast on one slice of bread. Next some stuffing of your choice and finally I had a few customers who would add Swiss cheese.
Number 6: the Kobe beef: I prefer this one on an onion roll but, to each his own. Slice your roll and layer your KOBE roast beef, sharp cheddar, onion and leaf lettuce on one side. on the other spread your horseradish sauce.
Number 5: lemon chicken melt: round roll. On one side of bread place one lemon chicken breast, few slices of ham, and Swiss. grill.
Number 4: the honey nut chicken wrap: take your favorite chicken salad recipe and add a bit of honey, raisins, craisins, dried apricot, and sliced pecans. Place on wrap and add lettuce tomatoes and alfalfa sprouts.
Number 3: the sloppy Joe: take 3 slices of rye bread and spread Russian dressing on each one. Then take your pick of ham roast beef or turkey on two slices. Then put a bit of Cole slaw over your meet followed by a slice of Swiss. Stack to that you have a double Decker .
Number 2: Sausalito turkey: your choice of bread. I use mayo, but again to each his own. Layer your boars head Sausalito turkey, sliced avocado, and havarti cheese.
Number 1: Sicilian chicken: on Ciabatta bread. On one side place a grilled chicken breast a few slices of ham and Swiss cheese. On the other side place lettuce tomato pepperoni and Swiss cheese drizzle with a vinaigrette dressing.
Source:
Image Credit
Related Articles
Recent
Categories