How to Make Good Choices with Fast Food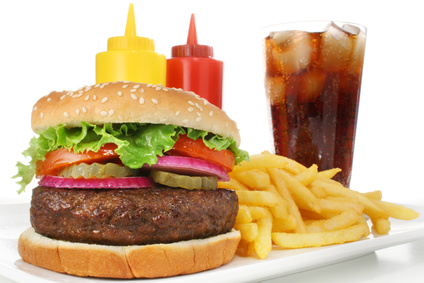 Whether we like it or not, we've entered the age of fast food. Everything is fast now. We are constantly rushing around trying to get from work to appointments to college. It's no wonder we have no time to stop and have a true home cooked meal anymore. But does that mean you have to let your latest health food diet crash and burn? No way! A few simple changes can make a big difference.
The easiest choice to make when ordering fast food is how many calories you are getting. Most restaurants have a calorie chart hidden somewhere, whether it's on the menu or hidden on the bottom of your place mat. If you can't find one just ask the manager. Then try to order something with less calories. You'll be surprised to learn that some foods we consider to be bad for us actually have less calories than the "healthier" choices.
But even though they have less calories, they're still be bad for you. That's where choosing which foods you want to eat comes in. The occasional Big Mac isn't going to kill you, but surely all that fatty meat can't be good for you either. Try to find healthy alternatives so when you're in a hurry you won't have to deal with the guilt that whatever you're eating is going straight to your waist. For places like McDonald's I try to stick with things like the Fruit 'n Walnut Salad, or milk instead of soda. Arby's serves a delicious baked potato, and you can choose to leave off all the extra butter. Many places also serve fish or bread sticks. You can't eat healthy every time, but there are a lot of better choices than a double cheeseburger with a large fry.
Some days, though, you're just really craving the meat and grease that can't be found anywhere else. It's alright to give in to temptation now and then. To help ease your guilt, try asking for a small fries instead of a large fries, a caffeine free soda, or asking them to leave the salt off the hamburger meat. My friend found out that McDonald's puts a combination of pepper and salt on their meat, but they'll leave it off if you ask for no salt on your burger. It's not common knowledge, but I like to think it's a bit healthier. You've already got enough salt on your fries to last for a week.
In the end, fast food choices aren't that hard. We're just so used to asking for our usual order that we don't even stop to see what else is on the menu. Take some time to get to know what your favorite fast food places serve. Also spend some time online looking up which foods have more calories, and which are healthier. You may be surprised by the results.
Source:
Image Credit
Related Articles
Recent
Categories